Events & Exhibitions
At Dr Brown's the relationship we have with Healthcare Professionals is invaluable in helping to develop new products and keep up to date with current medical and feeding practices, so what better way to maintain this relationship than attend a programme of leading Healthcare Professional Events across the country. Please come and visit the Dr Brown's stand at one of the forthcoming events near you.

---
Child Health Regional Forums
Profile Productions, in partnership with the Institute of Health Visiting offer Healthcare Professionals, who work with babies and children the opportunity to attend one of the 18 Child Health Regional Forums.
The Institute of Health Visiting (iHV) is a new organisation focused on the needs of health visitors and health visiting.
These events will help HCP's keep up-to-date with current issues and challenges faced by families and parents throughout the country caring for their new-born and other children.
To find an event near you log on to; www.profileproductions.co.uk
Programme
6.00pm Wine reception and exhibition
7.15pm Lecture
8.00pm Complimentary Supper

Examples of possible topics to be covered include:
Living with Autism
Eczema
Childhood obesity
Violence in the home Safeguarding your family
Weaning and Food Intolerance
Baby Massage & Emotional attachment
Post Natal Depression
---
Primary Care Conference, National Exhibition Centre Birmingham
With 24 successful years behind it, Primary Care is one of the UK's leading conference and exhibition for primary and community health care professionals! Featuring an outstanding conference programme, excellent line up of speakers and comprehensive exhibition Primary Care provides unrivalled learning and networking opportunities, allowing you to refresh your knowledge, skills and role, which will enable you to:
Find out about the latest clinical, government and PCT initiatives and prepare yourself for future NHS developments
Update your skills and meet your professional educational requirements
Enhance your job role
Network with colleagues and learn from examples of best practice
Choose from 15 pick and mix conference programmes for GPs, PCT/NHS managers, nurses, podiatrists/chiropodists, dieticians/nutritionists and AHPs
See a wealth of new ideas, services and products plus gain hands-on experience from two live wellbeing theatres
Primary Care is completely free of charge to attend for practising health care professionals. For more information please log on to: http://www.sterlingevents.co.uk/
---
The Baby Show
Dr Brown's has a stand at the UK leading Pregnancy and Parenting event held three times a year. This provides an excellent opportunity to gain expert advice and an excellent shopping experience under one roof. You will find everything you need for Bump, Baby and You!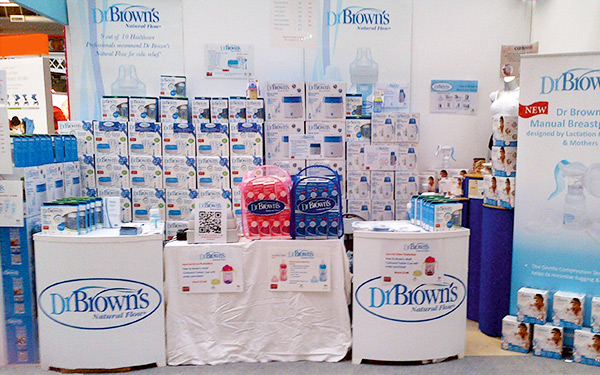 Dr Browns Baby Show Stand